Notes on the Harty Family of Constantinople, Turkey - Phyllis 'Les' Wells (nee Harty), 2012
After the Crimean War in 1856, a British Naval Mission was sent to Constantinople to modernize the ancient Turkish Navy, build a Navy Yard, and organize a Navy College to train officers. Grandfather Henry Harty joined this mission in 1863. He was married to Louisa Maria Wills. Their children were: Henry, John, Fred, Minnie, Polly, and Annie. There is no other information on Annie.
Great-grandfather Henry Lewis Harty, born 1833 in Dublin Ireland, died September 30, 1907 in Constantinople. Married Louisa Maria Wills (No photo) born 1841 in England and died 1932 in Istanbul.
Death notive of Henry Lewis Harty.
John Harty (1870-1927), son of Henry Lewis.
Frederic Harty (1864-1950), son of Henry Lewis.
Minnie (Merina Amelia, 1881-1968), and Polly (1883-1939), daughters of Henry Lewis Harty. He had two more children: Henry J. (1822-1927) and Annie (1867-1953).
Mary (Maria) Giannetti wife of Frederic Harty, daughter of Victoria nee Canzuch.
Frederic Louis Harty (born Constantinople 1864 - died in Istanbul 1950) and wife Mary (1870 Constantinople - 1934 Istanbul), married in 1891 in Constantinople, Turkey.
Frederic Harty and Maria Giannetti marriage entry in the Catholic church of St. Antoine, Pera - one of the witnesses appears to be Joseph
Barry
, the other, Joseph Canzuch, was the manager of the 'Pharmacie Britannique', an uncle of Maria, daughter of Severo and of Victoria Canzuch.
Fred Louis Harty was the owner of a Harty Stores, a specialty food store that provided British and Continental foods to the European Quarter of Pera, Constantinople. The stores were similar to London's Fortnum and Mason and today's gourmet food shops.
Frederic Harty's laiser pass issued by the American Embassy during WWI.
Fred Harty, his wife Mary (Maria) Giannetti and four of their seven children: Henry (1892-1972) is on the left, Doris (1894-1974) is sitting on the floor, Winifred ('Winnie' 1896-1985) is supported by her father and Edgar (1897-1993) is on the knees of his mother. The other children will be Robertina (1900-1993), Edward (1902-1987) and Mildred (1907-1981). It's a family group with the Giannetti siblings and their mother, Victoria Canzuch widow of Severo (Lorenzo). The Harty children attended the American and British Schools in Constantinople / Istanbul (photo taken 1899) - hover for names.
Standing in back: Doris Harty Allen, holding Edward Harty, Henry Harty (oldest brother).
Left to right: Doris Harty Allen, Winifred Harty, Henry Harty, Edgar Anthony Harty, Edward Harty.
Seated in front: Mildred Harty Radeglia, and Robertina Harty Bursley.
The burial (+transfer) entries of the Harty plot in the Feriköy Catholic Cemetery. The Harty family were Protestant but Frederic was baptised Catholic in 1892 a year after his marriage to his Catholic wife. Also buried in that plot is their son Henry.
Edgar Anthony Harty, my father. Edgar had a brother, Edward (1902-1987).
A group photo of what looks like after a Catholic Confirmation ceremony with a range of priests of different orders present, Constantinople, Edgar (on centre right in white.) This school was possibly
St Joseph
?
When World War I broke out, the family was in a tough spot. They were British subjects living in a country that suddenly was siding with Germany. At the time, Grandpa-Ed, though only 15 at the time, was a qualified radio operator who had a high-powered radio transmitting and receiving set. It was necessary for him to hurriedly dismantle and quickly move this equipment to different locations on many occasions. He was operating with other secret agents of the British Intelligence Service. The Turkish Secret Police were constantly in pursuit of him and his group. He was able to transmit invaluable information to Britain regarding enemy troop movements and concentrations. He was busily engaged one evening sending out information that he had received during the day. He heard a commotion in the hallway which he knew meant trouble. Instantly he dismantled his equipment, packed it and hurriedly left the troubled area. The following day, he heard a knock on the door and when he opened it, he was picked up by the Turkish authorities. They made a frantic attempt to locate the radio equipment that he had hidden. He made one slip when he forgot to pick up his radio technicians notebook. There was enough circumstantial evidence in it to land him in prison for the rest of the war. Prison life was tough but as he was a teenager, he managed to win favor with some of the prison guards who granted him special foods and privileges. Because of his age, his father was arrested and put in prison, too. Before the war started, his older sister, Doris, had been a friend of the German Ambassador's daughter. She went to the German Embassy and pleaded with the ambassador to let him go and eventually, he saw that both Hartys were granted their freedom.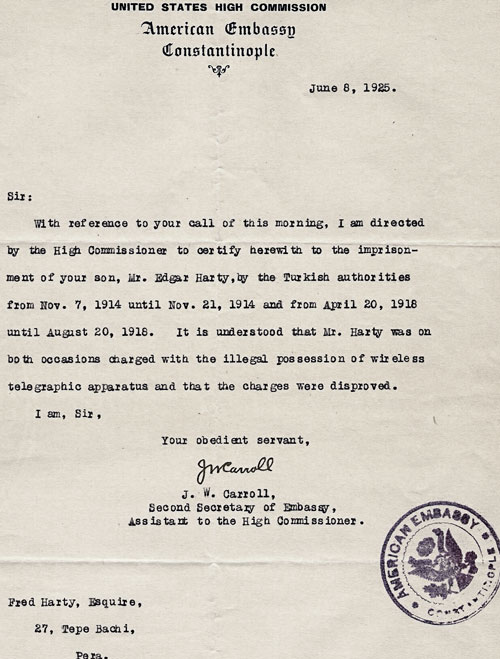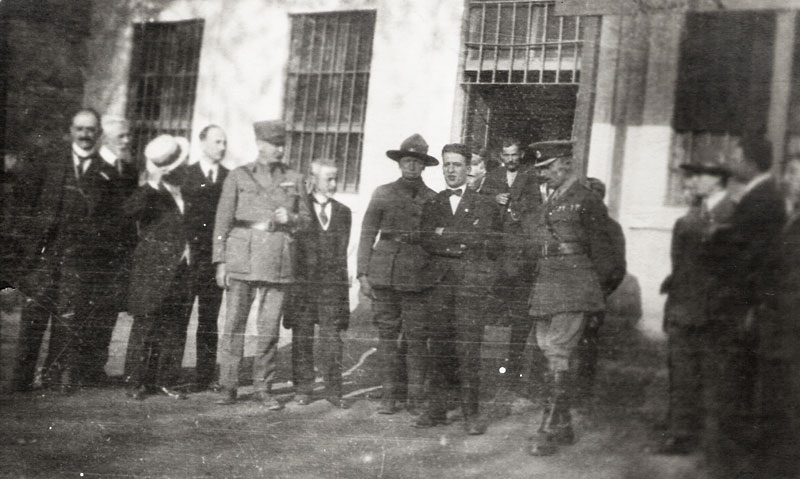 Ed speaks to the Robert College Boy Scout Troop about his experience in the Turkish jail.
Edgar Anthony Harty joined the Robert College-Baden Powell Boy Scouts on September 15, 1914. He was an active member and eventually became Scoutmaster of the 1st Constantinople Troop. He was still an active member in 1921. He is second from right, forward-front.
Edgar was a graduate of Robert College and became a registered Engineer.
"Party Time": Doris Harty Allen, left front. Robertina Harty Bursley, Bill Douch, and Edgar Anthony Harty on right front.
In 1921, Ed left his home in Pera and sailed from Constantinople, Turkey, on August 20 on the SS Gul Dhemal. He arrived in the Port of NY on September 10, 1921 and resided in New York City for a short time. The General Electric Company in Lynn, Massachusetts later hired him. It was there that he met and his wife to be, Loraine Natalie DeForge, through a mutual friend.
Loraine N. DeForge
Loraine Natalie DeForge and Edgar Anthony Harty were married on August 12, 1925 in Swampscott, Massachusetts.
My Father Edgar Harty 1992 (Born November 13, 1897 in Constantinople - Died June 15, 1993 in Gainesville, Florida) and my Mother Loraine Natalie DeForge Harty 1955 (Born April 29, 1902 in Lynn, Massachusetts - Died April 10, 1956 in Marblehead, MA.)
They had one daughter, me, Phyllis Elaine Marie Harty. Edgar eventually became a Design Developer at G.E's Riverworks Rectifier Department in Lynn. He was a P.E. and had 12 registered patents for tungar and metallic rectifiers. His name and patents were listed in "Who's Who in Engineering" and "Who's Who in the South". His obituary goes into more detail. For instance: "Mr. Harty worked for General Electric throughout the war years and on secret military projects such as the atomic bomb. After 35 years, he joined the North Electric Co. in 1958 as a coordinator of laboratory activities and to continue his work on power semiconductors, which grew from his initial war-time electronics experience and gave him 15 U.S. patents."
Phyllis Harty 1933.
Phyllis "Les" at Colby Jr. College 1948
November 22, 1952 Phyllis "Les" marries Lieutenant Donald Mason Wells, USN
Mase graduated from the US Naval Academy at Annapolis, MD, in June 1946
Les, Mase, and Best Man, Don Papin, November 22, 1952
Holly Elizabeth Wells, 6 yrs., Phyllis Harty Wells 32 yrs., and Peter Harty Wells, 4 yrs., 1959
submission date 2012