Segment of the diary kept during WWI period by Francis Smithers (son of Francis) Holton of Smyrna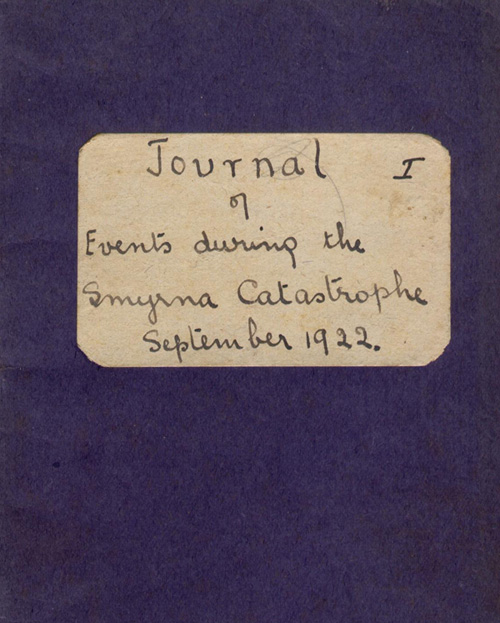 September 1922
In the last week of August Ethel, Baby + I went to Sochia and stayed at the YMCA Summer Camp. Ethel left after a few days but I decided to stay a week & Francis would come at the weekend & take us back.
1st Friday
Yesterday & today there was gloom in the place because of the news of the fall of Afion Karahissar. Received telegram from Francis to accept invitation from the Caravas for another stay of a week at New Sochia. Replied I didn't intend to & expected him the following day. We went out boating & bathing just the same but we all felt anxious.
2. Saturday
The inhabitants of Sochia have been given arms to protect themselves in case of emergency. I feel very wishful to get back home. All the holiday makers are preparing to leave on Monday. Francis & Mr Brown arrived at night.
News in Smyrna was very disquieting. It was not known where the Turks had come to but it was supposed at Alasheir. Most alarming were the rumours that the Greek troops refused to fight & were retreating in disorder before the Turkish army & that they were burning towns & villages behind them.
Francis had decided in case I had decided to go the Caravas, to come out with two cars to New Sochia & take us all back.
Dr Mac & Reed sent message to Mr Birge & Jacobs that political news was serious & urged advisability of returning.
3. Sunday
The whole party consisting of Miss Christie & her four remaining girls, Miss Mills & ourselves & Cosma & the boatman spent the day at the castle. It is a Genoese structure but in ruins; it commands the entrance of Sochia Bay opposite Island of St George. The arches are still whole & two underground rooms. Large stone cannon balls lie amongst the fallen boulders. We first landed on a strip of beach overlooked by a high cliff looking out to the open sea & had our breakfast there. The Birge & Jacob families came in their boats & we had brought hymn books & we had a service on the shore. Then we all bathed. Francis gave me a swimming lesson. The other families then left us & we went on to the castle & some went back to the camp to bring the dinner. A transport steamer passed on its way to Smyrna early in the afternoon followed by a British man-of-war. (We know now it was the King George V). Our lunch arrived very late & early in the evening we set off for home & to to bed early after packing every thing up so as to leave early next morning, the boat for Smyrna leaves after dawn. We were waken at 2.30 am but as the boat was not in we lay on our deck chairs outside the house waiting to be collected & snatching a little sleep. Baby slept soundly indoors & motor-boat came from Smyrna taking the Constant [?] family back.
4. Monday
During the morning Francis, Mr Birge & Mr Brown went down to the town to enquire why the boat had come in & were told it has received instructions at Dikili to proceed direct to Smyrna. We went out to Sandy Beach with the Birges & Jacobs for a bathe. Has another swimming lesson. Baby & I had a long sleep after lunch. Francis & Mr Brown went for a long walk with Mr Birge & Mr Jacob to a high hill east of Sochia commanding a view of all the country around. There is a large wonderful cave at the summit conatining marine remains. After supper we took our luggage & deck chairs to the Birges on the shore waiting for the boat as we were told so many people were going aboard it was better to get on as soon as she came in & sleep on board.
The Calliopi from Smyrna arrived at about 10 with Mr Constant bringing a warning to all Britishers to get back at once. Everybody then decided to come back by that night's boat & hurriedly packed up. The Clio came in at midnight from Mytilene & we went aboard at once. It was soon crowded. We left at 4 am. As the boat was mooring out it stopped to pick up the Birges who had hurried out too late.
5. Tuesday
On nearing the Castle we saw barges towing ammunition to a small Greek torpedo boat anchored there. The bay was full of men-of-war and merchant ships. Caiques full of people and luggage were going out to the steamers. The quay near the passport office was a crush of people and trunks & baggage. We landed amid a great confusion at the passport office. No one asked us for our passports and we got through quickly & fairly comfortably. Left our things at the Mac Forbes office & went into Frank Street to buy Baby a pair of shoes. Proceeded to the Y.W.C.A. & had some tea with the Birges. Francis met Dr. Mac at the Post Office & Stokes preparing to go away. Also met Arthur at the Consulate getting his papers ready for leaving. He was very puzzled as to the right thing to do. The consulate was full of inquirers. Francis & Mr Brown went up to Paradise on the 12.30 [train]; the Birges baby & I were driven up by Dr. Mac. [Alexander MacLachlan, the president of the International College of Paradise, Smyrna - his recollections] Marianthe had house clean & a nice dinner ready for us. Francis went to town. Mamma, Arthur & Ethel on their way to Smyrna by Jary [?] car came to see if I wouldn't go away with them but I didn't want to. I assured Arthur he was quite right to go as he was very pessimistic about affairs & felt nervous having Mamma & Ethel in Boudjah alone all day. They were going to Cyprus with others who wanted to avail themselves of the chance of leaving.
6. Wednesday
Work at the farm growing desultory. Everyone, both boys & workmen getting anxious. The [International] college had begun laying in stores of flour. We also bought potatoes, sugar, butter & some extra provisions.
Trains full of refugees constantly coming down both railway lines & landed in Smyrna. The college boys went to Paradise Station & gave them water when the train stopped. Russian Consul installed in Mr Brown's house.
7. Thursday
In discussing the question of my leaving with Baby we decided to act in accordance with the American families, not dreaming then of the possibility of war between Great Britain & Turkey.
At 10.45 we were just dropping off to sleep when Costa Barcoratta called up to us from garden that a special train from Boudjah was passing at 11 to take Britishers down to the Point. We were sorely puzzled so Francis went up & consulted with Ferguson & Dr Mac & decided not to leave. Francis then went to the station to see if Father & Mother were in the train. It passed down at 2. Father, Mother, Miss Griffith, the Blacklers, Angelico, Maritze got out at Paradise & slept at the Macs, Reeds & ours. They had no knowledge of where they were going to spend the night & that prompted Francis & Reed to bring them to the college.
8. Friday
Mother & Stamatia went to Boudja by the 9am, Father to town. They all came back to spend the evening with us. Herds of cattle, sheep & goats passing through the Farm & past our front door in a continual stream; these came from Kirtzinje [?] near Ayassoulook, from _ near Devirmendjik, from Ayassoulook etc. - by road & rail it was the migration of a whole people, the rayahs of Western Asia Minor, to the sea-coast at Smyrna, in the vain hope that there at least they would be safe from Turkish revenge.
During the morning thousands of Greek soldiers belonging to the IInd Div. passed along the road in front of our house on their way to Tchesmé. A group of 6 officers asked for permission to eat their frugal meal under the pine trees just inside our gate; the senior officer spoke with shame in this voice of the way in which they had been ordered to retreat without firing a shot; they had been on the march for ten days with hardly any sleep; his voice was quite hoarse from fatigue & dust he said.
Firouz & Kiamil arrived this afternoon with all their cattle after a 4 days journey fraught with difficulty & danger; it was last evening that Kiamil with his cattle was at Djumouvassi [Cumaovasi] alongside the little battle that took place between a number of Turkish irregulars (20-30) & the Greeks. He steered his cattle to one side into a vineyard where he spent the night with little Aly, sleeping under a vine; next morning he was fortunate enough to find all his animals once more & came to Paradise. He asked permission to house them for the night in our stable building, which was allowed him. He reported that at Djumouvassi on Thurs. evening & Friday morning there were thousands of animals wandering about without a master.
That night Father, Mother, S[?] slept at home; also Kiamil & Firouz by turns on dining-room sofa.
9th. Saturday
In the morning the Sevdikiliotes with their household goods, animals & carts came past the house in a continuous stream; a few shots were fired at them on the road some distance away from the College. We stopped Mother from going to Boudja that morning. I put her on to the midday train in which Father was.
About 12 am information somehow reached our masons that the Turks had arrived in Smyrna; this turned out to be true. They rushed across to the Campus from the Adm. Bldg. (where they slept the night before) & it was about this time that the College gates were opened to refugees & they were allowed to come in.
On the arrival of the 1 o'clock train at Paradise the news of the Turkish arrival was confirmed; Kiamil arrived on this train & went straight off to find Firouz who had taken out the cattle to graze. Almost at once the news must have reached the blackguard Cretans of the environs; as fierce firing started on to the stream of Sevdikialis who were coming down - Kiamil & Firouz were obliged to flee for their lives, leaving the cattle behind in the valley.
That afternoon was an anxious time with continuous firing along the Sevdikeuey road. We went out the College, returning again about 5pm. Towards evening the firing ceased. Turkish guards asked for by Dr. Mac through intermediary of American naval officer, arrived at 9.30 pm. taking charge outside the Campus, leaving the guarding inside to the American sailors. These sailors, with Sergeant Crocker a most efficient man in command, came out to us on Friday 8th (about 17 men) with rifles & two quickfirers. This night was quiet - slept at the house, as did Firouz & Kiamil. I went to the Sba. at about 5 pm. to see if Father & Mother were coming down; they slept in Boudja that night.
10th Sunday
Kiamil & Firouz went off by train to get into communication with the authorities for the purpose of recovering their cattle from the Cretans. We did not see anything more of them. An impressive service held in the chapel at 10am addressed by Cass Reed. K & Baby went. Every place taken; all the campus folk were there & chapel was filled with refugees. It was a thanksgiving service for the preservation of our lives. It was followed in Greek for the refugees.
During this service I went out with four Sevdikialis, a Turkish soldier & the Greek priest to bury two - a boy & a man - who had fallen the afternoon before by the fire of the Cretans; we buried them in one grave after the Greek priest had pronounced a short service.
About 1pm a battle started between the Turks on the hills round Smyrna & the retreating Greek troops between Gazamir & Race-course. We first heard the quick-firers going at it hard & then the shells began to whistle over; the Greeks also had guns in the vineyards with which they were shelling the Turks; the shells of both Greek and Turk went shrieking over; after about an hour the Greek guns were silenced & we saw the Turkish cavalry creeping up along the railway line & then off at a good pace towards the hills to the right whence the retreating Greeks were escaping. We saw a great number of prisoners pass along the Gueuz-Tépé road later in the evening & heard that about 4000 were taken.
Dr. Mac. & I watched the progress of this battle from one of the windows of the auditorium. We could see the Turkish shells dropping around the spot where the Greek guns must have been & the Greek soldiers getting across the land hurriedly towards the hills.
It was that afternoon after the battle that a Turkish cavalry-man rode across from the road past Corbi's house to the gate in the barbed wire where Marianthi & Desfina were sitting with Corbi's brother-in-law; the American flag was up & the marine was on guard; he came down into the ditch took out his revolver & pointed it at the fellow (who was on the Campus), ordering him to give up his watch & his ring which he promptly gave up. This incident serves to show the lawlessness which ruled in the Turkish ranks.
Looting of the Birge's house took place this afternoon. This night we went to sleep at the College, top dormitory. Guarded with Mr. Seylar for a couple of hours walking up & down the corridors which were littered with refugees.
One fire during the night in Boudja - turned out to be Blackler's koula. Sevdikeuey fire was started on Sunday & burned for 3 days.
11th Monday
Went down to the house for breakfast; at about 8am four of the young [?] came round to the front door through the back; they were on their way to the Farm; I went out to speak to them; just then 2 Turkish cavalry men were riding by & one came up to our door to speak to us; he saw a cheap watch-chain hanging from Agop Enfiedjian's pocket and said to him: 'show me your watch'; I twigged he wanted to take it so I spoke to him about this being American property, about the incident of the watch yesterday, & how this sort of thing could not be done on the Campus; he reiterated he only wanted to see the watch, so I told him to go round to the main gate & we could show it him there; at the gate there was an American marine & a Turkish corporal (regular) in charge of the guard; I put the case before the latter & he went for the soldier & sent him off; which he did scowling at us, asking if the boy was an Armenian & promising by his attitude to remember this. I had appealed to the corporal telling him Must. K. Pasha had sent him out to guard us & if he told me to give the watch up I would give it. After he'd sent the soldier off he handled the watch himself lovingly & asked if he might not keep it, which the American marine & I told him he could not. Our guard!!!
Early in the morning, a Turkish lieutenant called on Dr. Mac. & informed him that general _, at the race-course would like to see him; he was obliged to withdraw our guards as they were needed for an advance to Vourla. Later in the morning Dr. M. called on Noureddin Pasha who received him very cordially & promised to send up fresh guards in an hour or two. These did not arrive till 11pm & then only irregular horsemen (10-12).
During the morning I rode over to the aqueduct; noticed from a distance that the doors of the office had been smashed open & turned straight back; a bashi-bouzouk had looked out of the office & called to me but I was not waiting, all alone & rode straight on; reported to Cass who asked if there was anything of great value & as not, said we better just leave it for the present.
3 cartloads of stuff brought over from the Farm.
Dr. Mac. after lunch motored over & I rode over. We found things turned topsy-turvy. This morning we saw looting of house W. of Jackson's from bath-room window. Burning of houses in Profitilia. It was this afternoon about 3.30 that the most important incident of this period occured: Dr. Mac. was informed that the Sell House was being looted, so he with Crocker & 5 marines motored out, blowing the hooter hard to try & frighten away the looters. When they got to with 150 yards of the house the car was left in the road & the party approached on foot. Dr. Mac. noticed through a window broken open looters in the house; he went up to the veranda & shouted to them in Turkish 'Don't you know that this is American property; what you doing here? Get out'. They promptly raised their rifles at them and he had to jump to one side calling to Crocker - 'they are inside, & they intend to fight'. The sailors had opened out, Dr Mac & the sergeant standing away from them; the Turkish soldiers blew a whistle which attracted a number of their companions who had been looking in the Grofitilia [?] houses nearby. They then came to meet the marines. Crocker seeing things so black pulled his revolver from his sheath & throwing it to the ground showed his other hands & that he had no wish to fight. To the sailors he said: 'Retire! Don't fire.' The retired backwards their rifles held down low, ready to be brought up if necessary. When they had got back some 30 or 40 yards a shot was fired in the air by the Turks & was followed by shots fired at the sailors; they also let off a few shots; one of these Americans stated afterwards he had been in the Great War & had a number of wounds in his body from them, but he had never been in a tighter corner before - When they had got back 50 or 60 paces the sergeant ordered 'Wheel round & run!'. They obeyed and got back safely, though with great danger to their lives as the bullets whizzed all around them, only one was v. slightly wounded - his finger scratched by a bullet. The Turkish soldiers, about a dozen in number, then turned their attention to Dr Mac. They surrounded him, demanding roughly what right he had to interfere with them, & at the same time striking him blows with the butts of their rifles; these he parried with his left forearm, receiving all the blows on it. He spoke to them in Turkish asking them to listen to him, & all through this experience it was the willingness of some of them to listen that saved his life. He told them he was the head of the American College over there, & as his house belonged to the College & he heard it was being looted he came over to tell them whom it belonged to, & not to fight them. He told them he had worked in this country for 34 years & during this time had served Turks as well as other nationalities; during the whole time of his ill-treatment he tried to engage them in conversation to which some listened, whilst others banged him about with their rifles. One particularly aggressive & evil-looking fellow demanded his watch, which Dr Mac preferred to give; but before he had time to get it out the fellow snatched watch & chain away from his waist-coat. He then obliged him to give to take off his gold ring & give it up; & later on he demanded & took jacket, waist-coat, trousers, boots & socks. Right at the beginning, just after being surrounded two of the soldiers backed away from him & raised their rifles to shoot him down. In the nick of time, student Zeki who had followed from the College, threw himself on the guns & dragged them to the ground shouting 'Don't shoot! He is my principal!'. There followed an altercation between Zeki & the soldiers, the latter at first refusing to believe he was a Turk. While Dr Mac was attempting to reason with them & warding off blows continually aimed at his head, he was also gradually edging away towards the car all the time protecting himself as much as possible behind the more humane of his persecutors. At one moment soon after he saw a bayonet come through the circle surrounding him & preparing to get him - he seized it with both hands, the soldier drew it back sharply & it came off in his hands without cutting them as it did not have cutting blades. One brute of a fellow -?- leaving him with an enormous thick stick shouting out to him Run! Dr Mac felt they would shoot him down as soon as he did, so he stood his ground & received the blows, being often beaten to the ground but managing to recover & raise himself each time before they could give him finishing blows. When they got back to the car they insisted on knowing what it contained; & Dr Mac lifted the seat to show them the tools etc. which granted a further respite. Soon after this some of the Turks said: 'He have heard enough!' & the same two fellows got ready their rifles, backing away as far as they could & gradually raising their guns to end it all. Poor old Dr Mac now felt it was all up; just as they were getting ready to shoot a cavalry officer on horseback galloped up & pulling in his horse at a distance shouted 'Vurma!' 'Don't shoot'; he seemed to doubt if they would obey; they lowered their guns; he next ordered: 'Go back'. They obeyed again. He then approached, & raising Dr Mac managed to get his arm round the horse's neck & thus support him. Crocker, who had been kept separate all this time by two of the Turks came up and helped him also. Dr Mac was at the limit of his endurance & after answering a question or two swooned off. He was carried back to the College.
This officer had been passing along the main road, & hearing firing had asked Simonian who was by Nifli's what it all meant; he was told it was the tchétés fighting with the Americans. He then rode straight off & discovered the place just in time.
Brought over early in the afternoon 3 cartloads of grain & machinery & unloaded just outside gym. door; when Dr Mac's incident occurred & everybody scattered. Was asked by Cass to break news of Dr Mac's adventure to Rosalind who sent me back to get the whole truth for her. That night everybody in College was very nervous; the outer guards (Americans) were all brought in & were set to guard all sides of the building very carefully, with quick-firers ready. Seylar & I, Murray [?] + Bourguin, Trueblood + Arabelian held guard in the building by turns, in twos, through the night.
At about 11 p.m. we heard a voice in Turkish hailing us from over the way by the Fergusons: It was addressed to the Americans (Amerikaan!) & was to inform them that they were the guard sent from Smyrna for the College, & to ask for somebody to guide them to the College. Seylar & I were on guard & went to the frontgate to see them come in; they were an evil-looking crew (10-12) & Crocker who was also at the gate muttered to his men; I suppose we'll have to let them in, but all of you fellows keep a very careful watch at your posts through the night. Another fire at Boudja this night which made me feel very bad as Father & Mother were there. During the day I had been to the railway station & I enquired by wire re their safety, getting a reply back they were alright & I should stay where I was.
During the night these irregulars started selecting houses for themselves from the refugee houses in the campus (continuing next day), & one Greek went out to protect his animals & was chased back to the building by the Turk; this almost created a panic in the hall-ways; Murray [?] + Bourguin stopped it by rushing into the hall-ways & calming the people, just in time.
Either this night or Sunday night a large fire shown by the bright glow in the sky was seen to have been started in Smyrna city; to our immense relief it died down again after ½ hr to 1 hr.
The feeding problem in the College getting pretty serious, as all of us feeding there; & the refugees also getting all their bread from the College oven by ration-card. The poorer refugees given soup from the College. Miss Way did splendid work serving all these poor folk.
Slept at College, but got very little actual sleep; this was the most anxious night we had at Paradise.
Thursday, 12th
Very early this morning, soon after light, Birge went down in the car with others (Jennings & Jacob & Lawrence) to see the Turkish authorities & explain the urgent need of their sending us out regular guards.
It was this morning that one of the little babies (twins) Miss Way was looking after, died; we had the Greek priest read the service in the room, whilst I went out with a Turkish guard (irreg.) & boys to dig the grave; as the grave was nearly finished we saw the godfather (not the father) walking down carrying his burden with an armed American sailor by his side (he refused to come without); we buried it there, in its infant robes, decorated with some greens, next to the graves of the 2 Indian soldier-prisoners who had died at the campus in October 1918.
During the day numerous additional soldiers sent up; there was 1 camp made over at the Farm under the pine-trees & another at the Railway Station. Some of these men looked irregulars. With them however 2 young Turk officers came up, one of whom seemed a nice fellow. He went to see Dr Mac. who had been carried over the night before to sleep in the Office (it was our most anxious night), to report to him; he said his orders were to put himself under Dr Mac as his colonel. He collected the refugees on the staircase & addressed them very re-assuringly in Turkish (translated by an interpreter); the burden of it all was that he like they was weary of the horrors of war; but now he believed it was all over, they would soon be able to return to their homes & enjoy the blessings of Peace; to which everybody echoed a fervent Amen. It sounded a bit ironical, though, with Sevdikeuy burning away for the last two days. He only begged everybody prevent if they had any firearms to hand them in - not to him, but to Dr MacLachlan whom, they knew, wished them no harm. About noon Omar Effendi came from the station to tell me Father wanted to speak to me on the phone; he acted jolly well, this young man, at this time, helping the 3 Miss Roussos, trying to save Kofsch's [?] house, & to help anyway he could. He now escorted me up to the signal-box, with a young Greek clerk; Sbatli [?] & Hatso were about, they all had a red band on their arm to indicate they were Railway employees, & of course wore a fez. Everybody was nervy, quite off overtly, myself included - roads quite deserted save for those returning with loot or soldiers.
Got into touch with Father at the 'phone almost at once'; he told me a special train was coming up that afternoon at about 2 p.m. for the remaining English people; wanted us to come also. Replied that K. & baby [wife Kate nee Heginbotham and their first child John] would be at station but I would remain. Also got a message that the 2 Miss Blacklers were coming down by same train to Paradise. Returned to prepare K. & get Father's luggage to the station. Our poor servant-girl Marianthi was broken-hearted as she said good-bye to K. & baby. Mrs Webber & Taylors went down by the same train.
Train rushed through at about 3 p.m., staying only a few seconds. Father had a worried look on his face - just had time to put luggage in - where Father stayed, & get K. in. Aly bey & his son living at Paradise Station were kind to me. Message sent by Father to me was passed on to the other Britishers by me - Mrs Webber & Taylors went down with K.
K. & Father & Mother were met by Waterlow & Mullins in fezzes & by Dobson. Caravan Bridge Station was littered with dirty rags & old torn up mattresses etc.; there was a dead woman on platform absolutely deserted; window had to be closed. Father & Mother were expected at de Candolle's, Dobson & took Mrs Webber & Taylors to the vicarage for the night. Waterlow, Father & Mother took K. to Mrs Tius's off the vicarage; Waterlow gave up his room to K.; Guest & Evans in the same building. Mrs T. could not make any - for food as there was shortage of bread; but for that night she gave her sufficient breakfast. Mother returned after ½ hour with basket of provisions from Mrs de C. for K. (with kavass). On the road a few soldiers about & many refugee women & children. Martial law at 7 p.m.; just before that Bob came in & asked K. to give him & Bert Perrin the - if an urgent call came during the night. After this Guest & Evans came in, their rooms being here; all the British Railway officials + the others, the General [Manager] included, wearing fezzes. Guest & Evans related their march down from Azizieh, accompanied by Mr. Crespi; they marched down with the Greek Army.
Baby was so tired he went to sleep standing up by K.'s side. K. very nervous; did not sleep a wink all night; she heard single shots through the night.
Wed 13th
At noon went over to Station to get news if possible of K. Had a telegram from Father telling me Lawrence was bring up a letter from Sir Harry Lamb. Went back to College & up to Dr Mac.'s where I saw Sir H. L.'s card & practically as follows: 'We are now advising
Britishers to leave at once; if you will come down to the Consulate we will get you on board immediately; I expect you down unless you are prepared to remain at
.' Dr Mac. told me he was remaining but I must think quite independently of K. & Baby & decide as I thought fit. The American Consul had also sent up word that the women & children were to leave that afternoon; Cass, Lawrence, Caldwell etc. went off to prepare them. Blackler did not know what to do, but I heard later had come down with the rest. I told Murray of the note from Sir Harry; he said he would remain but considered I was differently situated. Went in & bolted some - at the dinner-table; asked Arakelian to kindly come up & give me the money I had left in safe which he did; went down to house & saw Cass packing up for Rosalind; told him I thought I had better go down to the Consulate & find out how urgent the matter was; I might go off & I might go back. - me, dear old chap, & seemed to think it might after all be the best thing to do to go as it looked as if possibly the amount of work left to do at the College could be done as well by one or two men as by several. Counted out £t paper which I asked him to hand over to Marianthi if I did not come back; I felt rotten with regard to the poor girl!! I then rode over to the Station rapidly leaving my bike at Aly bey's as I thought it must be time for the train. Father had sent me another 2 telegrams that I must come down by the 2 trains. I was so floored that I came away with money only, not a change of clothing of any sort, for which I was desperately sorry afterwards. Marcara came down on same train; I remember a very empty train with nobody I knew from Boudja.
At Point saw Father outside the clinique loading Mrs Dobson & baby & luggage on to the car; he got on himself. I walked down to Consulate with the padre, leaving him after a bit as he had the nurse & was too slow for me. Came to the front door of Consulate; found it locked & had to come round to back; managed to get in as Mother saw me & explained to guard who I was. Found K. & Baby in sitting-room& sat down with them to discuss question whether I should go with them or return; I felt at first as if my duty was to go back; for a few minutes was drawn in 2 off-directions as by two compelling forces; Baby right at first as I sat on the sofa on left of entrance gave me 3 distinct kisses, one after the other, saying with joy in his little voice 'Daddy! Daddy!' - he has never kissed me like that before, nor since; it looked like a message from God. I consulted with Father; he told me it was a question of War with Great Britain; I asked Sir Harry Lamb - his face was drawn & haggard; his reply was 'As everybody is going I suppose you had better go'. Internment by these brutes loomed in the background, with K. & Baby in some other land left to shift for themselves & no useful purpose served by remaining; I decided to go! We got a passport without a photograph as we had more & waited our turn. At about 5.30 p.m. a message came from Noureddine brought by some whipper-snapper that if the Railway people would remain he would give as many soldiers as they wished to guard it. The de Candolles were overjoyed & went straight back with the rest of the staff of them & the Consulate - about a dozen altogether, Father included. I did not like it & tried a bit of dissuasion but he felt it his duty as senior, to return. We were taken off soon after in batch no.13, under guard of a few British soldiers, accompanied by Urquhart & Hole to the quay where the ship's boat was waiting to receive us; there was an ugly-looking fellow in a fez, without a collar & unshaven, standing there examining our passports; he scowled at us because there were no photographs. It took about 20 minutes for everybody to show their passports & get in; it was a relief to be handed in by our own nice clean healthy-looking sailor-boys; you could see on their faces how happy they were to get us off. We rowed straight off to the Bavarian on to which we got as it was getting dark, about 6.30 p.m. Soon after getting aboard we settled down in a corner of the hold, & had some food handed us. Bob Ashe was one of the first men we met on board. The fire which had started at about 3 p.m. was then just beginning to assume alarming proportions. It raged all through that night; I got very little sleep returning continually on deck, drawn up by that awful spectacle. At first there were 2 main fires, one in the Armenian quarter, & one in the bazaars I should say; they burned towards each other & met to form one solid wall of flame; then there were other isolated fires breaking out in different parts; it burned towards the Point & towards the quay which latter it reached at many points between the passport office & the Bella Vista.
The 'Bavarian' moved further out to sea after 11 p.m. We did not hear volleys of rifle-shots or quick-firers as some have since reported; but we did hear every now & then isolated shots & bombs going off. I don't think there was any firing on crowds, i.e. organized massacre, as some have stated. Next morning the fire was still unabated, burning fiercely away.
Thursday 14th
Quite early we were taken alongside the King George V, & the Antioch was brought alongside us for trans-shipment purposes. I had asked an officer on duty if we could get a message across to the Admiral to find out if Mr & Mrs Holton senr. had been brought off, & if not whether any steps could be taken to get them off. We went on board the King George together & asked the Commander if this message could be sent; he at once said he would send it off; it went back to the Bavarian, & after a ½ hour or so this officer brought me the reply: Both (Mr & Mrs Holton) on board Iron Duke. It was one of the great moments of our lives - we had been very anxious all through the night about them; knowing they had gone back to the Point the evening before. Our hearts went up in praise & thanks to God for His mercy. Later in the morning Father & Mother came on to the S.S. Bavarian bound for Malta & told us the story of the evening before. They had not slept at all at Point. After - there they saw the glare of the fire but did not recognise its seriousness. About 2 p.m. they saw what very rapid progress the flames were making & decided (about 12 Railway men) that they must get away; they thought of running a train out to Boudja, & then decided to walk to Cordelio & signal to the warships from there. Fortunately, before they could put this mad plan into execution, a squad of British marines arrived, to escort the clinique folk on board [read the diary of the manageress, Grace Williamson of that clinic, 'the English Nursing Home'].
Later we heard from Lizzie Marby that she was in Smyrna that night, driven out of her house by the fire; she wandered on to the Daragatch Road to Halka-Bounar [Halkapınar], with the crowd; she says all Boudja was out on this road that night. She spent 2 awful nights out at Halka-Bounar with a crowd of refugees & witnessed much robbery of money from the refugees, herself included, & a certain amount of shooting down of individuals.
Segment of a 1918 diary written by his mother, Emily Jane Holton.